Ultra Flat Wave Polypropylene Tubing
Product Detail
Product Tags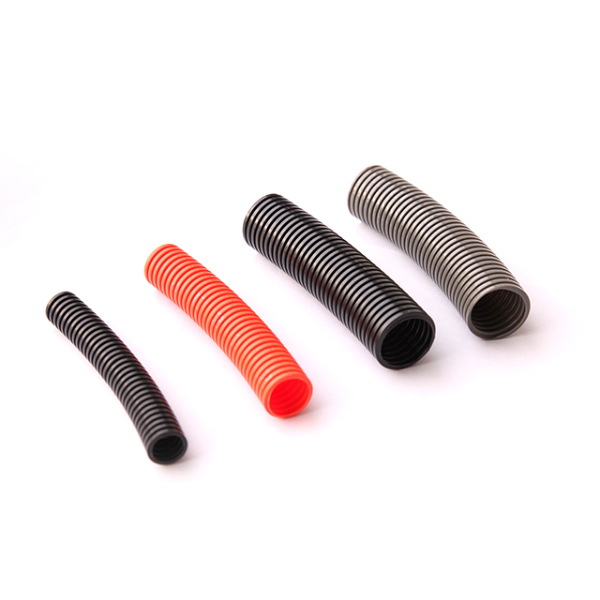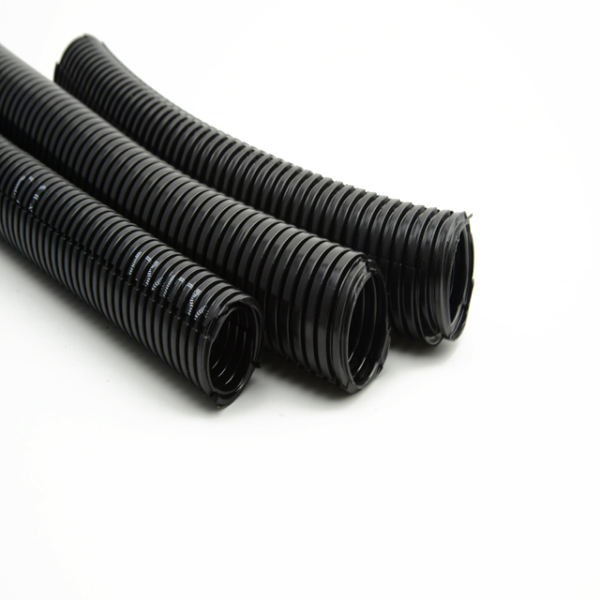 Introduction of Polypropylene Tubing
The material of tubing is polypropylene pp. Polypropylene conduit has the characteristics of high hardness, heavy pressure resistance, wear resistance and no deformation, high mechanical strength, slightly poor flexibility, and excellent electrical insulation and mechanical electrical protection. It does not contain halogen, phosphorus, and cadmium, passed RoHS. It also has excellent chemical resistance and corrosion resistance of oil products, so that the entire conduit system can achieve the ultimate protection effect
WY-UFW-PP

| | |
| --- | --- |
| Color | Grey (RAL 7037), black (RAL 9005), |
| Temperature Range | Min-40℃, Max110℃,Short-term130℃ |
| Protection degree | IP68 |
| Flame-retardant | HB (UL94), according to FMVSS 302: <100mm/min |
| Properties | Oil resistant, excellent chemical resistance to acids, alkali and corrosion, high mechanical strength, lack of flexibility, dim surface, free of halogen, phosphor and cadmium, passed RoHS Ultra inner hole, less abrasion to the cables |
| Applications | Machine building, chemical equipment, especially suitable for vehicle industry with frequent vibration |
| Fit with | All tubing connectors except WYTC open connectors |
| | | | | | | |
| --- | --- | --- | --- | --- | --- | --- |
| Article no. | Color | ID×OD | Stat.R | Dyn.R | Weight | PU |
| WY-UFW-PP | G/B | (mm×mm) | (mm) | (mm) | (kg/m±10%) | (m/ring) |
| *WY-UFW-PP-AD8.0B | Black | 5.7×8.1 | 12 | 30 | 0.008 | 200 |
| *WY-UFW-PP-AD10.0B | Black | 6.5×10.0 | 15 | 35 | 0.013 | 100 |
| WY-UFW-PP-AD13.0B | Black | 9.2×13.0 | 20 | 45 | 0.018 | 100 |
| WY-UFW-PP-AD15.8B | Black | 12.0×15.8 | 25 | 55 | 0.023 | 100 |
| WY-UFW-PP-AD18.5B | Black | 14.3×18.5 | 35 | 65 | 0.029 | 50 |
| WY-UFW-PP-AD21.2B | Black | 16.0×21.2 | 40 | 75 | 0.042 | 50 |
| WY-UFW-PP-AD25.5B | Black | 19.5×25.5 | 42 | 85 | 0.05 | 50 |
| WY-UFW-PP-AD28.5B | Black | 22.2×28.5 | 45 | 100 | 0.058 | 50 |
| WY-UFW-PP-AD31.5B | Black | 25.0×31.5 | 50 | 110 | 0.069 | 25 |
| *WY-UFW-PP-AD34.5B | Black | 29.0×34.5 | 55 | 120 | 0.072 | 25 |
| *WY-UFW-PP-AD42.5B | Black | 36.0×42.5 | 65 | 150 | 0.113 | 25 |
| *WY-UFW-PP-AD54.5B | Black | 48.0×54.5 | 80 | 190 | 0.158 | 25 |
| WY-UFW-PP/S-AD8.0B | slit Black | 5.7×8.1 | 12 | 30 | 0.008 | 200 |
| WY-UFW-PP/S-AD10.0B | slit Black | 6.5×10.0 | 15 | 35 | 0.013 | 100 |
| WY-UFW-PP/S-AD13.0B | slit Black | 9.2×13.0 | 20 | 45 | 0.018 | 100 |
| WY-UFW-PP/S-AD15.8B | slit Black | 12.0×15.8 | 25 | 55 | 0.023 | 100 |
| WY-UFW-PP/S-AD18.5B | slit Black | 14.3×18.5 | 35 | 65 | 0.029 | 50 |
| WY-UFW-PP/S-AD21.2B | slit Black | 16.0×21.2 | 40 | 75 | 0.042 | 50 |
| WY-UFW-PP/S-AD25.5B | slit Black | 19.5×25.5 | 42 | 85 | 0.05 | 50 |
| WY-UFW-PP/S-AD28.5B | slit Black | 22.2×28.5 | 45 | 100 | 0.058 | 50 |
| WY-UFW-PP/S-AD31.5B | slit Black | 25.0×31.5 | 50 | 110 | 0.069 | 25 |
| WY-UFW-PP/S-AD34.5B | slit Black | 29.0×34.5 | 55 | 120 | 0.072 | 25 |
| WY-UFW-PP/S-AD42.5B | slit Black | 36.0×42.5 | 65 | 150 | 0.113 | 25 |
| WY-UFW-PP/S-AD54.5B | slit Black | 48.0×54.5 | 80 | 190 | 0.158 | 25 |

WY-UFW-FPP

| | |
| --- | --- |
| Material | Polypropylene PP |
| Color | Grey (RAL 7037), black (RAL 9005) |
| Temperature Range | Min-40℃, Max125℃,Short-term150℃ |
| Protection degree | IP68 |
| Flame-retardant | V0(UL94) , according to FMVSS 302, self-extinguishing, type B |
| Properties | il resistant, excellent chemical resistance to acids, alkali and corrosion, high mechanical strength, lack of flexibility, dim surface, free of halogen, phosphor and cadmium, passed RoHS Ultra inner hole, less abrasion to the cables |
| Applications | Machine building, chemical equipment, especially suitable for vehicle industry with frequent vibration |
| Fit with | All tubing connectors except WYTC open connectors |
| | | | | | | |
| --- | --- | --- | --- | --- | --- | --- |
| Article no. | Color | ID×OD | Stat.R | Dyn.R | Weight | PU |
| WY-UFW-FPP | G/B | (mm×mm) | (mm) | (mm) | (kg/m±10%) | (m/ring) |
| *WY-UFW-FPP-AD8.0B | Black | 5.7×8.1 | 12 | 30 | 0.008 | 200 |
| *WY-UFW-FPP-AD10.0B | Black | 6.5×10.0 | 15 | 35 | 0.013 | 100 |
| WY-UFW-FPP-AD13.0B | Black | 9.2×13.0 | 20 | 45 | 0.019 | 100 |
| WY-UFW-FPP-AD15.8B | Black | 12.0×15.8 | 25 | 55 | 0.024 | 100 |
| WY-UFW-FPP-AD18.5B | Black | 14.3×18.5 | 35 | 65 | 0.03 | 50 |
| WY-UFW-FPP-AD21.2B | Black | 16.0×21.2 | 40 | 75 | 0.043 | 50 |
| WY-UFW-FPP-AD25.5B | Black | 19.5×25.5 | 42 | 85 | 0.052 | 50 |
| WY-UFW-FPP-AD28.5B | Black | 22.2×28.5 | 45 | 100 | 0.06 | 50 |
| WY-UFW-FPP-AD31.5B | Black | 25.0×31.5 | 50 | 110 | 0.071 | 25 |
| *WY-UFW-FPP-AD34.5B | Black | 29.0×34.5 | 55 | 120 | 0.074 | 25 |
| *WY-UFW-FPP-AD42.5B | Black | 36.0×42.5 | 65 | 150 | 0.116 | 25 |
| *WY-UFW-FPP-AD54.5B | Black | 48.0×54.5 | 80 | 190 | 0.163 | 25 |
| WY-UFW-FPP/S-AD8.0B | Slit Black | 5.7×8.1 | 12 | 30 | 0.008 | 200 |
| WY-UFW-FPP/S-AD10.0B | Slit Black | 6.5×10.0 | 15 | 35 | 0.013 | 100 |
| WY-UFW-FPP/S-AD13.0B | Slit Black | 9.2×13.0 | 20 | 45 | 0.019 | 100 |
| WY-UFW-FPP/S-AD15.8B | Slit Black | 12.0×15.8 | 25 | 55 | 0.024 | 100 |
| WY-UFW-FPP/S-AD18.5B | Slit Black | 14.3×18.5 | 35 | 65 | 0.03 | 50 |
| WY-UFW-FPP/S-AD21.2B | Slit Black | 16.0×21.2 | 40 | 75 | 0.043 | 50 |
| WY-UFW-FPP/S-AD25.5B | Slit Black | 19.5×25.5 | 42 | 85 | 0.052 | 50 |
| WY-UFW-FPP/S-AD28.5B | Slit Black | 22.2×28.5 | 45 | 100 | 0.06 | 50 |
| WY-UFW-FPP/S-AD31.5B | Slit Black | 25.0×31.5 | 50 | 110 | 0.071 | 25 |
| WY-UFW-FPP/S-AD34.5B | Slit Black | 29.0×34.5 | 55 | 120 | 0.074 | 25 |
| WY-UFW-FPP/S-AD42.5B | Slit Black | 36.0×42.5 | 65 | 150 | 0.116 | 25 |
| WY-UFW-FPP/S-AD54.5B | Slit Black | 48.0×54.5 | 80 | 190 | 0.163 | 25 |
Installation instructions of Polyamide Tubing
Pushing the tubing into the connector and its assembly is done. Push again until it can not complete its fixing so that it can reach some protection degree.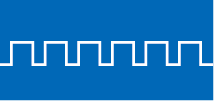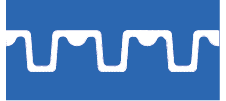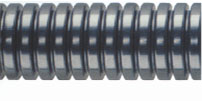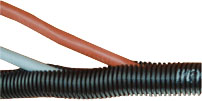 Advantages of Flexible Polyamide Conduit
The density of polypropylene is low, only 0.91-0.92g / cm3.
High heat resistance.
The texture is relatively hard and the surface hardness is high.
Has a certain brittleness, especially at low temperatures.
High protection degree
Pictures of Corrugated Polyamide Tubing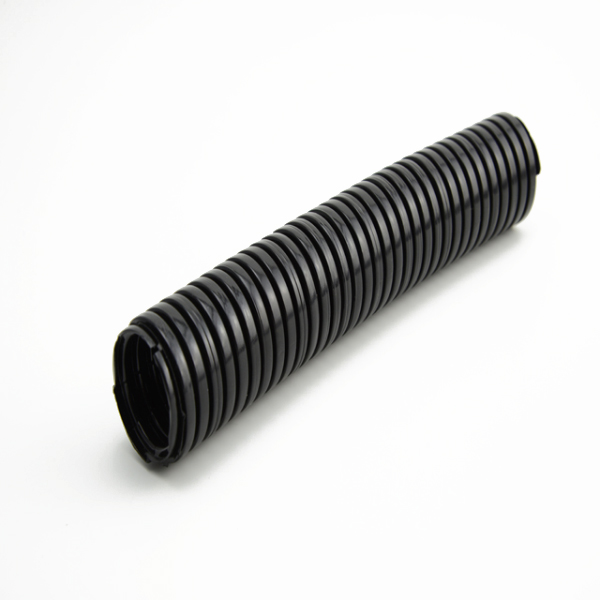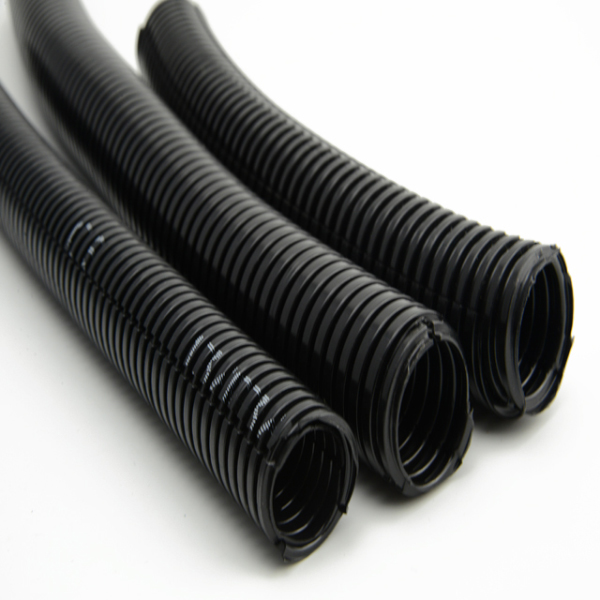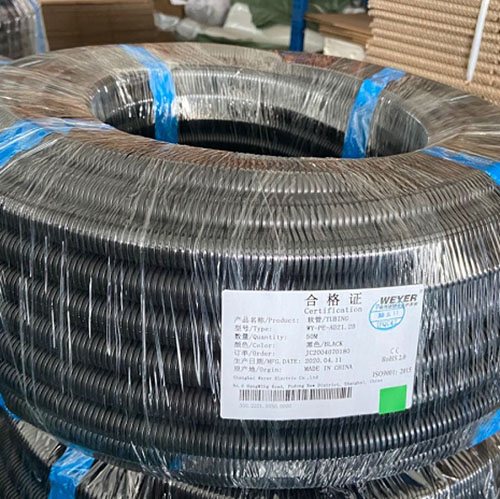 Application PolyamideTubing: Machine building
Due to its excellent performance characteristics, plastic corrugated tubing is widely used in jacket tubings and wire tubings of various electrical, mechanical and machine tools in various machinery manufacturing industries. At the same time, the reasonable matching of plastic bellows and various adapters can play a good role in the connection between the mechanical assembly and the machine.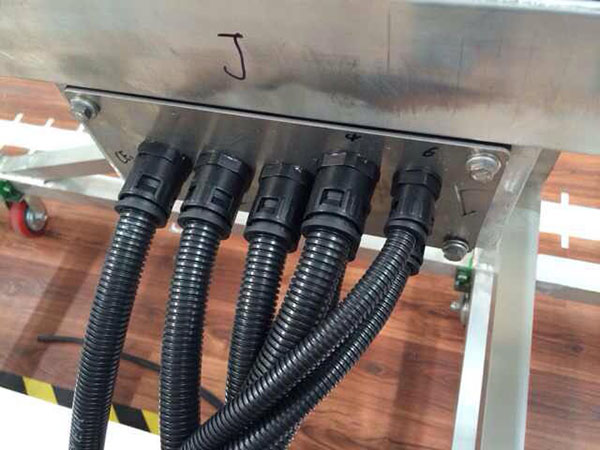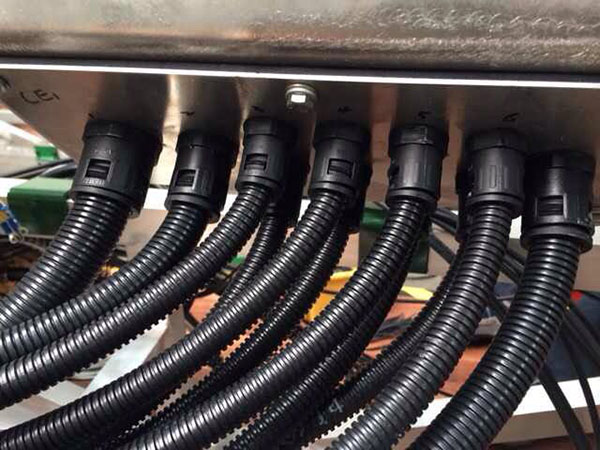 ---
Previous:
Polyamide Corrugated Tubing
---