Connector With Strain Relief With Metal Thread
Product Detail
Product Tags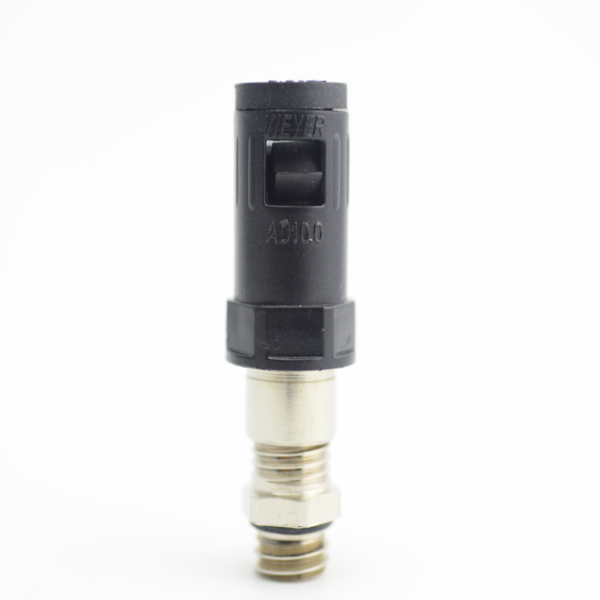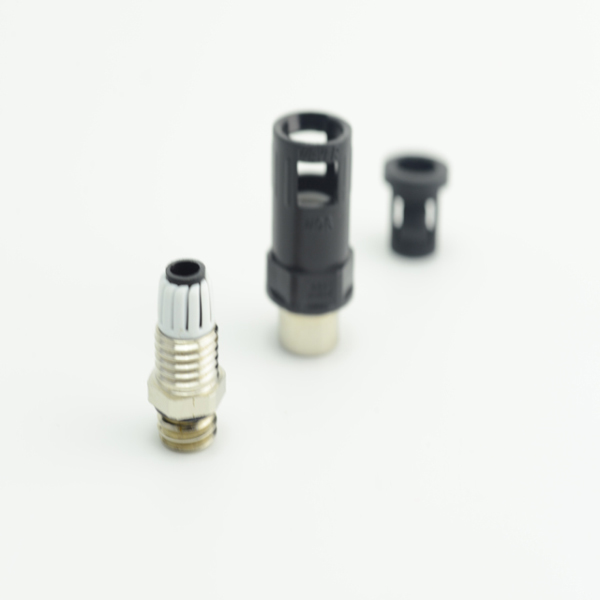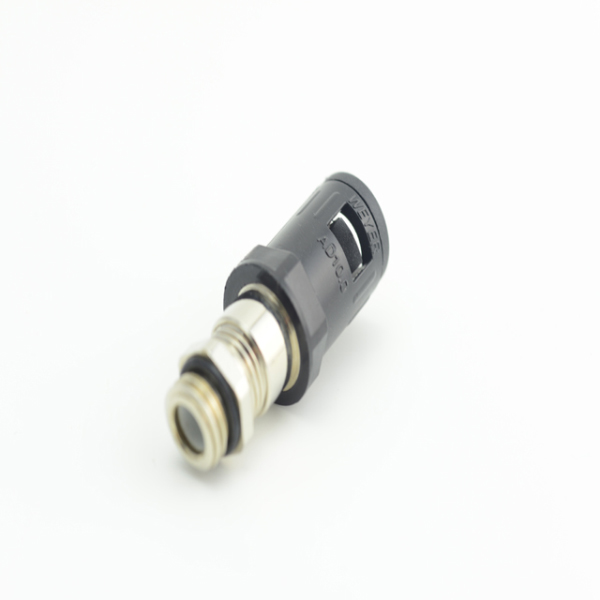 Introduction of Connector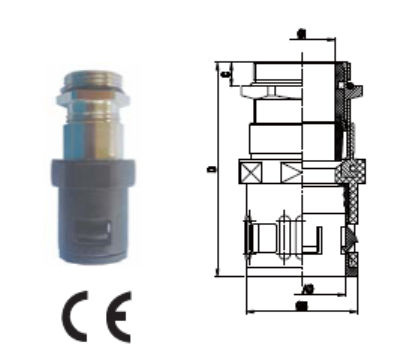 | | |
| --- | --- |
| Material | Polyamide with nickel-plated brass thread |
| Color | Grey (RAL 7037), black (RAL 9005) |
| Temperature range | Min-40°C,Max100°C,Short-term120°C |
| Flame-retardant | V2(UL94) |
| Protection degree | IP68 |
| Flame-retardant | Self-extinguishing, free of halogen, phosphor and cadmium, passed RoHS |
| Properties | excellent impact resistance, high-intensive thread connection, fastening the cables |
| Fit with | All tubing except overload type WYK tubing |
| | | | | | | | | | |
| --- | --- | --- | --- | --- | --- | --- | --- | --- | --- |
| Article no. | Color | Thread | Fits to | Clamping | C | φI | φB | D | Pack |
| WQGMZ-M | G/B | Dimension | tubing size | Range | mm | mm | mm | mm | units |
| WQGMZ-M12G/AD10.0 | Grey | M12×1.5 | AD10.0 | 3~6.5 | 6 | 6.6 | 17 | 50 | 50 |
| WQGMZ-M16G/AD13.0 | Grey | M16×1.5 | AD13.0 | 4~8 | 7 | 8.4 | 20 | 56.5 | 50 |
| WQGMZ-M18G/AD15.8 | Grey | M18×1.5 | AD15.8 | 5~10 | 7 | 10.2 | 23 | 58.5 | 50 |
| WQGMZ-M20G-H/AD15.8 | Grey | M20×1.5 | AD15.8 | 5~10 | 7 | 10.2 | 23 | 58.5 | 50 |
| WQGMZ-M20G/AD18.5 | Grey | M20×1.5 | AD18.5 | 6~12 | 7 | 12.2 | 26 | 62 | 25 |
| WQGMZ-M20G-D/ AD21.2 | Grey | M20×1.5 | AD21.2 | 8~14 | 7 | 14.2 | 29.5 | 64 | 25 |
| WQGMZ-M22G/AD21.2 | Grey | M22×1.5 | AD21.2 | 8~14 | 7 | 14.2 | 29.5 | 64 | 25 |
| WQGMZ-M25G/AD21.2 | Grey | M25×1.5 | AD21.2 | 10~16 | 7 | 16.2 | 29.5 | 64 | 25 |
| WQGMZ-M25G-D/AD28.5 | Grey | M25×1.5 | AD28.5 | 13~18 | 7 | 18.4 | 37 | 68 | 20 |
| WQGMZ-M27G/AD28.5 | Grey | M27×2.0 | AD28.5 | 13~18 | 8 | 18.4 | 37 | 68 | 20 |
| WQGMZ-M30G/AD28.5 | Grey | M30×2.0 | AD28.5 | 13~18 | 8 | 18.4 | 37 | 68 | 20 |
| WQGMZ-M32G-D/AD34.5 | Grey | M32×1.5 | AD34.5 | 18~25 | 8 | 25.2 | 44 | 79.5 | 10 |
| WQGMZ-M36G/AD34.5 | Grey | M36×2.0 | AD34.5 | 18~25 | 8 | 25.2 | 44 | 79.5 | 10 |
| WQGMZ-M40G-D/AD42.5 | Grey | M40×1.5 | AD42.5 | 22~32 | 9 | 32.5 | 52 | 85.5 | 5 |
| WQGMZ-M48G/AD42.5 | Grey | M48×2.0 | AD42.5 | 22~32 | 9 | 32.5 | 52 | 85.5 | 5 |
| WQGMZ-M50G-D/AD54.5 | Grey | M50×1.5 | AD54.5 | 37~44 | 9 | 44.5 | 58 | 95 | 5 |
| WQGMZ-M63G/AD54.5 | Grey | M63×1.5 | AD54.5 | 37~44 | 10 | 44.5 | 58 | 96 | 5 |
| WQGMZ-M64G/AD54.5 | Grey | M64×2.0 | AD54.5 | 37~44 | 10 | 44.5 | 58 | 96 | 5 |
| WQGMZ-M12B/AD10.0 | Black | M12×1.5 | AD10.0 | 3~6.5 | 6 | 6.6 | 17 | 50 | 50 |
| WQGMZ-M16B/AD13.0 | Black | M16×1.5 | AD13.0 | 4~8 | 7 | 8.4 | 20 | 56.5 | 50 |
| WQGMZ-M18B/AD15.8 | Black | M18×1.5 | AD15.8 | 5~10 | 7 | 10.2 | 23 | 58.5 | 50 |
| WQGMZ-M20B-H/AD15.8 | Black | M20×1.5 | AD15.8 | 5~10 | 7 | 10.2 | 23 | 58.5 | 50 |
| WQGMZ-M20B/AD18.5 | Black | M20×1.5 | AD18.5 | 6~12 | 7 | 12.2 | 26 | 62 | 25 |
| WQGMZ-M20B-D/ AD21.2 | Black | M20×1.5 | AD21.2 | 8~14 | 7 | 14.2 | 29.5 | 64 | 25 |
| WQGMZ-M22B/AD21.2 | Black | M22×1.5 | AD21.2 | 8~14 | 7 | 14.2 | 29.5 | 64 | 25 |
| WQGMZ-M25B/AD21.2 | Black | M25×1.5 | AD21.2 | 10~16 | 7 | 16.2 | 29.5 | 64 | 25 |
| WQGMZ-M25B-D/AD28.5 | Black | M25×1.5 | AD28.5 | 13~18 | 7 | 18.4 | 37 | 68 | 20 |
| WQGMZ-M27B/AD28.5 | Black | M27×2.0 | AD28.5 | 13~18 | 8 | 18.4 | 37 | 68 | 20 |
| WQGMZ-M30B/AD28.5 | Black | M30×2.0 | AD28.5 | 13~18 | 8 | 18.4 | 37 | 68 | 20 |
| WQGMZ-M32B-D/AD34.5 | Black | M32×1.5 | AD34.5 | 18~25 | 8 | 25.2 | 44 | 79.5 | 10 |
| WQGMZ-M36B/AD34.5 | Black | M36×2.0 | AD34.5 | 18~25 | 8 | 25.2 | 44 | 79.5 | 10 |
| WQGMZ-M40-D/BAD42.5 | Black | M40×1.5 | AD42.5 | 22~32 | 9 | 32.5 | 52 | 85.5 | 5 |
| WQGMZ-M48B/AD42.5 | Black | M48×2.0 | AD42.5 | 22~32 | 9 | 32.5 | 52 | 85.5 | 5 |
| WQGMZ-M50B-D/AD54.5 | Black | M50×1.5 | AD54.5 | 37~44 | 9 | 44.5 | 58 | 95 | 5 |
| WQGMZ-M63B/AD54.5 | Black | M63×1.5 | AD54.5 | 37~44 | 10 | 44.5 | 58 | 96 | 5 |
| WQGMZ-M64B/AD54.5 | Black | M64×2.0 | AD54.5 | 37~44 | 10 | 44.5 | 58 | 96 | 5 |
| | | | | | | | | | |
| --- | --- | --- | --- | --- | --- | --- | --- | --- | --- |
| Article no. | Color | Thread | Fits to | Clamping | C | φI | φB | D | Pack |
| WQGMZ-P | G/B | Dimension | tubing size | Range | mm | mm | mm | mm | units |
| WQGMZ-P07G/AD10.0 | Grey | PG07 | AD10.0 | 3~6.5 | 6 | 6.6 | 17 | 50 | 50 |
| WQGMZ-P09G/AD13.0 | Grey | PG09 | AD13.0 | 4~8 | 7 | 8.4 | 20 | 56.5 | 50 |
| WQGMZ-P11G/AD15.8 | Grey | PG11 | AD15.8 | 5~10 | 7 | 10.2 | 23 | 58.5 | 50 |
| WQGMZ-P13.5G/AD18.5 | Grey | PG13.5 | AD18.5 | 6~12 | 7 | 12.2 | 26 | 62 | 25 |
| WQGMZ-P16G/AD21.2 | Grey | PG16 | AD21.2 | 8~14 | 7 | 14.2 | 29.5 | 64 | 25 |
| WQGMZ-P21G/AD28.5 | Grey | PG21 | AD28.5 | 13~18 | 8 | 18.4 | 37 | 68 | 20 |
| WQGMZ-P29G/AD34.5 | Grey | PG29 | AD34.5 | 18~25 | 8 | 25.2 | 44 | 79.5 | 10 |
| WQGMZ-P36G/AD42.5 | Grey | PG36 | AD42.5 | 22~32 | 9 | 32.5 | 52 | 85.5 | 5 |
| WQGMZ-P48G/AD54.5 | Grey | PG48 | AD54.5 | 37~44 | 10 | 44.5 | 58 | 96 | 5 |
| WQGMZ-P07B/AD10.0 | Black | PG07 | AD10.0 | 3~6.5 | 6 | 6.6 | 17 | 50 | 50 |
| WQGMZ-P09B/AD13.0 | Black | PG09 | AD13.0 | 4~8 | 7 | 8.4 | 20 | 56.5 | 50 |
| WQGMZ-P11B/AD15.8 | Black | PG11 | AD15.8 | 5~10 | 7 | 10.2 | 23 | 58.5 | 50 |
| WQGMZ-P13.5B/AD18.5 | Black | PG13.5 | AD18.5 | 6~12 | 7 | 12.2 | 26 | 62 | 25 |
| WQGMZ-P16B/AD21.2 | Black | PG16 | AD21.2 | 8~14 | 7 | 14.2 | 29.5 | 64 | 25 |
| WQGMZ-P21B/AD28.5 | Black | PG21 | AD28.5 | 13~18 | 8 | 18.4 | 37 | 68 | 20 |
| WQGMZ-P29B/AD34.5 | Black | PG29 | AD34.5 | 18~25 | 8 | 25.2 | 44 | 79.5 | 10 |
| WQGMZ-P36B/AD42.5 | Black | PG36 | AD42.5 | 22~32 | 9 | 32.5 | 52 | 85.5 | 5 |
| WQGMZ-P48B/AD54.5 | Black | PG48 | AD54.5 | 37~44 | 10 | 44.5 | 58 | 96 | 5 |
WQGMZE
| | |
| --- | --- |
| Material | Polyamide with nickel-plated brass thread |
| Color | Grey (RAL 7037), black (RAL 9005) |
| Temperature range | Min-40°C,Max100°C,Short-term120°C |
| Flame-retardant | V2(UL94) |
| Protection degree | IP68, using sealing gum around the thread |
| Flame-retardant | Self-extinguishing, free of halogen, phosphor and cadmium, passed RoHS |
| Properties | excellent impact resistance, high-intensive thread connection, fastening the cables, with excellent shielding |
| Fit with | All tubing except overload type WYK tubing |
| | | | | | | | | | |
| --- | --- | --- | --- | --- | --- | --- | --- | --- | --- |
| Article no. | Color | Thread | Fits to | Clamping | C | ФI | ФB | D | Pack |
| WQGMZE-M | G/B | Size | tubing size | Range | mm | mm | mm | mm | units |
| WQGMZE-M12G/AD10.0 | Grey | M12×1.5 | AD10.0 | 3~6.5 | 6 | 6.6 | 17 | 51 | 50 |
| WQGMZE-M16G/AD13.0 | Grey | M16×1.5 | AD13.0 | 4~8 | 7 | 8.4 | 20 | 58 | 50 |
| WQGMZE-M18G/AD15.8 | Grey | M18×1.5 | AD15.8 | 5~10 | 7 | 10.2 | 23 | 59.5 | 50 |
| WQGMZE-M20G-H/AD15.8 | Grey | M20×1.5 | AD15.8 | 5~10 | 7 | 10.2 | 23 | 59.5 | 50 |
| WQGMZE-M20G/AD18.5 | Grey | M20×1.5 | AD18.5 | 6~12 | 7 | 12.2 | 26 | 63.5 | 25 |
| WQGMZE-M20G-D/ AD21.2 | Grey | M20×1.5 | AD21.2 | 8~14 | 7 | 12.2 | 29.5 | 65.5 | 25 |
| * WQGMZE-M22G/AD21.2 | Grey | M22×1.5 | AD21.2 | 8~14 | 7 | 14.2 | 29.5 | 65.5 | 25 |
| WQGMZE-M25G/AD21.2 | Grey | M25×1.5 | AD21.2 | 10~16 | 7 | 16.2 | 29.5 | 65.5 | 25 |
| WQGMZE-M25G-D/AD28.5 | Grey | M25×1.5 | AD28.5 | 13~18 | 8 | 18.4 | 37 | 69.5 | 20 |
| WQGMZE-M27G/AD28.5 | Grey | M27×2.0 | AD28.5 | 13~18 | 8 | 18.4 | 37 | 69.5 | 20 |
| WQGMZE-M30G/AD28.5 | Grey | M30×2.0 | AD28.5 | 13~18 | 8 | 18.4 | 37 | 69.5 | 20 |
| WQGMZE-M32G-D/AD34.5 | Grey | M32×1.5 | AD34.5 | 18~25 | 8 | 25.2 | 44 | 81.5 | 10 |
| WQGMZE-M36G/AD34.5 | Grey | M36×2.0 | AD34.5 | 18~25 | 8 | 25.2 | 44 | 81.5 | 10 |
| WQGMZE-M40G-D/AD42.5 | Grey | M40×1.5 | AD42.5 | 22~32 | 9 | 32.5 | 52 | 87.5 | 5 |
| WQGMZE-M48G/AD42.5 | Grey | M48×2.0 | AD42.5 | 22~32 | 9 | 32.5 | 52 | 87.5 | 5 |
| WQGMZE-M50G/AD54.5 | Grey | M50×1.5 | AD54.5 | 30~38 | 9 | 44.5 | 58 | 97.5 | 5 |
| WQGMZE-M63G/AD54.5 | Grey | M63×1.5 | AD54.5 | 37~44 | 10 | 44.5 | 58 | 98.5 | 5 |
| WQGMZE-M64G/AD54.5 | Grey | M64×2.0 | AD54.5 | 37~44 | 10 | 44.5 | 58 | 98.5 | 5 |
| WQGMZE-M12B/AD10.0 | Black | M12×1.5 | AD10.0 | 3~6.5 | 6 | 6.6 | 17 | 51 | 50 |
| WQGMZE-M16 B/AD13.0 | Black | M16×1.5 | AD13.0 | 4~8 | 7 | 8.4 | 20 | 58 | 50 |
| WQGMZE-M18B/AD15.8 | Black | M18×1.5 | AD15.8 | 5~10 | 7 | 10.2 | 23 | 59.5 | 50 |
| WQGMZE-M20B-H/AD15.8 | Black | M20×1.5 | AD15.8 | 5~10 | 7 | 10.2 | 23 | 59.5 | 50 |
| WQGMZE-M20B/AD18.5 | Black | M20×1.5 | AD18.5 | 6~12 | 7 | 12.2 | 26 | 63.5 | 25 |
| WQGMZE-M20B-D/AD21.2 | Black | M20×1.5 | AD21.2 | 8~14 | 7 | 12.2 | 29.5 | 65.5 | 25 |
| WQGMZE-M22B/AD21.2 | Black | M22×1.5 | AD21.2 | 8~14 | 7 | 14.2 | 29.5 | 65.5 | 25 |
| WQGMZE-M25B/AD21.2 | Black | M25×1.5 | AD21.2 | 10~16 | 7 | 16.2 | 29.5 | 65.5 | 25 |
| WQGMZE-M25B-D/AD28.5 | Black | M25×1.5 | AD28.5 | 13~18 | 8 | 18.4 | 37 | 69.5 | 20 |
| WQGMZE-M27B/AD28.5 | Black | M27×2.0 | AD28.5 | 13~18 | 8 | 18.4 | 37 | 69.5 | 20 |
| WQGMZE-M30B/AD28.5 | Black | M30×2.0 | AD28.5 | 13~18 | 8 | 18.4 | 37 | 69.5 | 20 |
| WQGMZE-M32B-D/AD34.5 | Black | M32×1.5 | AD34.5 | 18~25 | 8 | 25.2 | 44 | 81.5 | 10 |
| WQGMZE-M36B/AD34.5 | Black | M36×2.0 | AD34.5 | 18~25 | 8 | 25.2 | 44 | 81.5 | 10 |
| WQGMZE-M40B-D/AD42.5 | Black | M40×1.5 | AD42.5 | 22~32 | 9 | 32.5 | 52 | 87.5 | 5 |
| WQGMZE-M48B/AD42.5 | Black | M48×2.0 | AD42.5 | 22~32 | 9 | 32.5 | 52 | 87.5 | 5 |
| WQGMZE-M50B/AD54.5 | Black | M50×1.5 | AD54.5 | 30~38 | 9 | 44.5 | 58 | 97.5 | 5 |
| WQGMZE-M63B/AD54.5 | Black | M63×1.5 | AD54.5 | 37~44 | 10 | 44.5 | 58 | 98.5 | 5 |
| WQGMZE-M64B/AD54.5 | Black | M64×2.0 | AD54.5 | 37~44 | 10 | 44.5 | 58 | 98.5 | 5 |
| | | | | | | | | | |
| --- | --- | --- | --- | --- | --- | --- | --- | --- | --- |
| Article No. | Color | Thread | Fits to | Clamping | C | ФI | ФB | D | Pack |
| WQGMZE-P | G/B | Dimension | tubing size | mm | mm | mm | mm | mm | units |
| WQGMZE-P07G/AD10.0 | Grey | PG07 | AD10.0 | 3~6.5 | 6 | 6.6 | 17 | 50 | 50 |
| WQGMZE-P09G/AD13.0 | Grey | PG09 | AD13.0 | 4~8 | 7 | 8.4 | 20 | 56.5 | 50 |
| WQGMZE-P11G/AD15.8 | Grey | PG11 | AD15.8 | 5~10 | 7 | 10.2 | 23 | 58.5 | 50 |
| WQGMZE-P13.5G/AD18.5 | Grey | PG13.5 | AD18.5 | 6~12 | 7 | 12.2 | 26 | 62 | 25 |
| WQGMZE-P16G/AD21.2 | Grey | PG16 | AD21.2 | 8~14 | 7 | 14.2 | 29.5 | 64 | 25 |
| WQGMZE-P21G/AD28.5 | Grey | PG21 | AD28.5 | 13~18 | 8 | 18.4 | 37 | 68 | 20 |
| WQGMZE-P29G/AD34.5 | Grey | PG29 | AD34.5 | 18~25 | 8 | 25.2 | 44 | 79.5 | 10 |
| WQGMZE-P36G/AD42.5 | Grey | PG36 | AD42.5 | 22~32 | 9 | 32.5 | 52 | 85.5 | 5 |
| WQGMZE-P48G/AD54.5 | Grey | PG48 | AD54.5 | 37~44 | 10 | 44.5 | 58 | 96 | 5 |
| WQGMZE-P07B/AD10.0 | Black | PG07 | AD10.0 | 3~6.5 | 6 | 6.6 | 17 | 50 | 50 |
| WQGMZE-P09B/AD13.0 | Black | PG09 | AD13.0 | 4~8 | 7 | 8.4 | 20 | 56.5 | 50 |
| WQGMZE-P11B/AD15.8 | Black | PG11 | AD15.8 | 5~10 | 7 | 10.2 | 23 | 58.5 | 50 |
| WQGMZE-P13.5B/AD18.5 | Black | PG13.5 | AD18.5 | 6~12 | 7 | 12.2 | 26 | 62 | 25 |
| WQGMZE-P16B/AD21.2 | Black | PG16 | AD21.2 | 8~14 | 7 | 14.2 | 29.5 | 64 | 25 |
| WQGMZE-P21B/AD28.5 | Black | PG21 | AD28.5 | 13~18 | 8 | 18.4 | 37 | 68 | 20 |
| WQGMZE-P29B/AD34.5 | Black | PG29 | AD34.5 | 18~25 | 8 | 25.2 | 44 | 79.5 | 10 |
| WQGMZE-P36B/AD42.5 | Black | PG36 | AD42.5 | 22~32 | 9 | 32.5 | 52 | 85.5 | 5 |
| WQGMZE-P48B/AD54.5 | Black | PG48 | AD54.5 | 37~44 | 10 | 44.5 | 58 | 96 | 5 |
Advantages of Connector with Metal Thread
1. Only tools are needed for loading and unloading, which greatly reduces the installation time.
2. The cable has a wide range and the tensile strength is particularly strong.
3. The products have anti-corrosion properties such as acid and alkali resistance, chemical resistance and general solvents, and can be waterproof and dustproof. A full range of sizes can be widely used in outlet holes in various fields.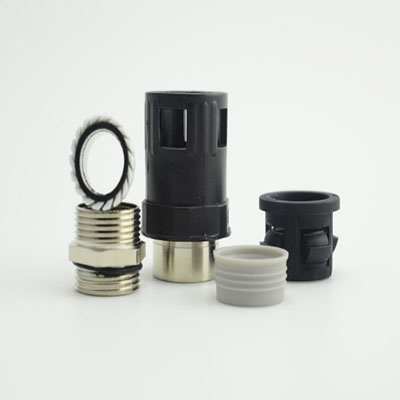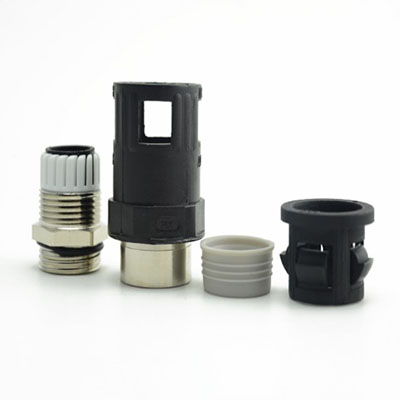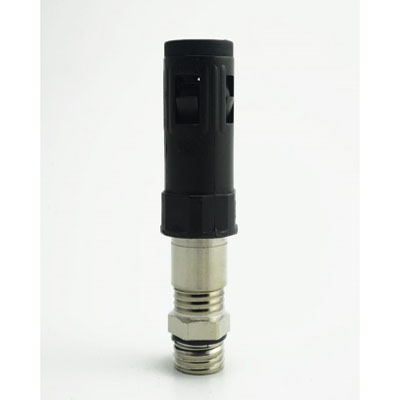 ---
---