Polyamide High Temperature Resistant Tubing
Product Detail
Product Tags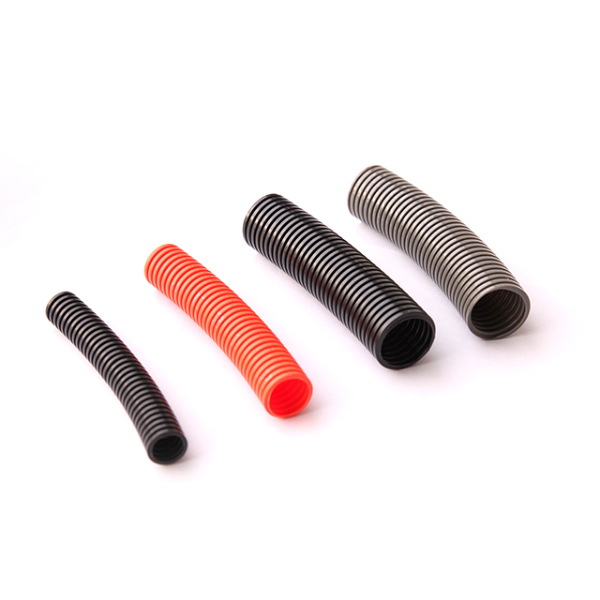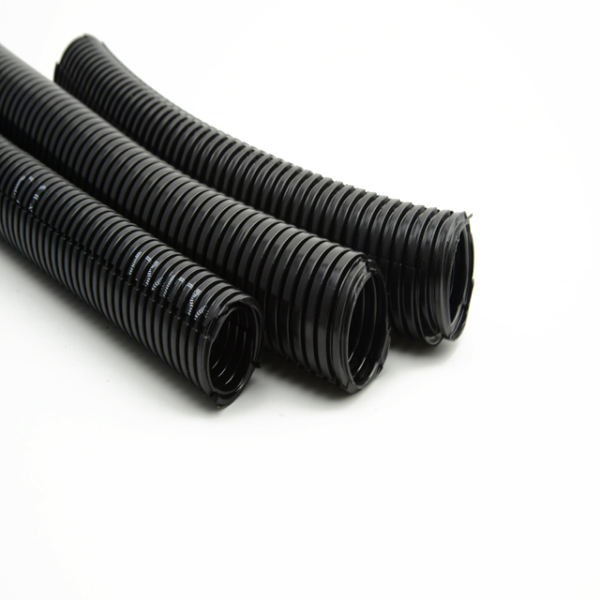 Introduction of Polyamide Tubing

| | |
| --- | --- |
| Material | High temperature resistant Polyamide |
| Color | Black (RAL 9005), orange(RAL 2009) |
| Temperature Range | Min-40℃,Max150℃,Short-term170℃ |
| Flame-retardant | HB (UL94), according to FMVSS 302: <100mm/min |
| Properties | Flexible and excellent tenacity, glossy surface, wind resistant, high mechanical strength, resistant to oil, acid and solvents. anti-friction, excellent UV-resistant self-extinguishing, external installation, medium wall thickness free of halogen, phosphor and cadmium, passed RoHS. |
| Applications | Machine tool, mechanical building, electric control system etc. |
| Fit with | All Tubing connectors except WYTC open connectors |
| | | | | | | |
| --- | --- | --- | --- | --- | --- | --- |
| Article no.   |  Color | ID×OD | Stat.R | Dyn.R | Weight | PU |
| WY-HTPA |  G/B | (mm×mm) | mm | mm | (kg/m±10%) | (m/ring) |
| WY-HTPA-AD8.0B | Black | 5.7×8.1 | 12 | 30 | 0.008 | 200 |
| WY-HTPA-AD10.0B | Black | 6.5×10.0 | 15 | 35 | 0.02 | 100 |
| WY-HTPA-AD13.0B | Black | 9.5×13.0 | 20 | 45 | 0.024 | 100 |
| WY-HTPA-AD15.8B | Black | 12.0×15.8 | 25 | 55 | 0.035 | 100 |
| WY-HTPA-AD18.5B | Black | 14.3×18.5 | 35 | 65 | 0.05 | 50 |
| WY-HTPA-AD21.2B | Black | 17.0×21.2 | 40 | 75 | 0.056 | 50 |
| WY-HTPA-AD25.5B | Black | 21.0×25.5 | 42 | 85 | 0.056 | 50 |
| WY-HTPA-AD28.5B | Black | 23.0×28.5 | 45 | 100 | 0.09 | 50 |
| WY-HTPA-AD31.5B | Black | 26.0×31.5 | 50 | 110 | 0.105 | 25 |
| WY-HTPA-AD34.5B | Black | 29.0×34.5 | 55 | 120 | 0.12 | 25 |
| WY-HTPA-AD42.5B | Black | 36.0×42.5 | 65 | 150 | 0.17 | 25 |
| WY-HTPA-AD54.5B | Black | 48.0×54.5 | 80 | 190 | 0.23 | 25 |
| WY-HTPA/S-AD8.0B | Slit Black | 5.7×8.1 | 12 | 30 | 0.008 | 200 |
| WY-HTPA/S-AD10.0B | Slit Black | 6.5×10.0 | 15 | 35 | 0.02 | 100 |
| WY-HTPA/S-AD13.0B | Slit Black | 9.5×13.0 | 20 | 45 | 0.024 | 100 |
| WY-HTPA/S-AD15.8B | Slit Black | 12.0×15.8 | 25 | 55 | 0.035 | 100 |
| WY-HTPA/S-AD18.5B | Slit Black | 14.3×18.5 | 35 | 65 | 0.05 | 50 |
| WY-HTPA/S-AD21.2B | Slit Black | 17.0×21.2 | 40 | 75 | 0.056 | 50 |
| WY-HTPA /S-AD25.5B | Slit Black | 21.0×25.5 | 42 | 85 | 0.056 | 50 |
| WY-HTPA/S-AD28.5B | Slit Black | 23.0×28.5 | 45 | 100 | 0.09 | 50 |
| WY-HTPA/S-AD31.5B | Slit Black | 26.0×31.5 | 50 | 110 | 0.105 | 25 |
| WY-HTPA/S-AD34.5B | Slit Black | 29.0×34.5 | 55 | 120 | 0.12 | 25 |
| WY-HTPA/S-AD42.5B | Slit Black | 36.0×42.5 | 65 | 150 | 0.17 | 25 |
| WY-HTPA /S-AD54.5B | Slit Black | 48.0×54.5 | 80 | 190 | 0.23 | 25 |
Installation instructions of Polyamide conduit
Pushing the tubing into the connector and its assembly is done. Push again until it can not complete its fixing so that it can reach some protection degree.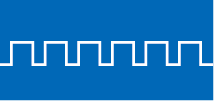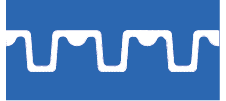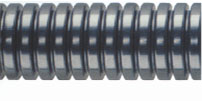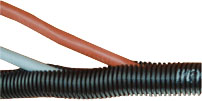 Advantages of Flexible Polyamide Conduit
1. Light weight, can reduce the quality of the vehicle and reduce fuel consumption.
2. Good flexibility and easy layout, which can reduce joints.
3. Good toughness, not easily deformed by external impact.
4. Good resistance to vibration and corrosion.
5. The joint is well sealed and easy to install.
6. Easy extrusion and simple process.
Pictures of Corrugated Polyamide Tubing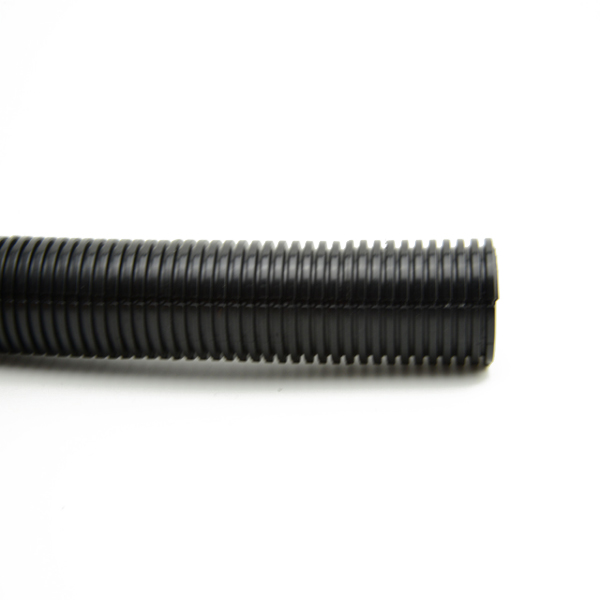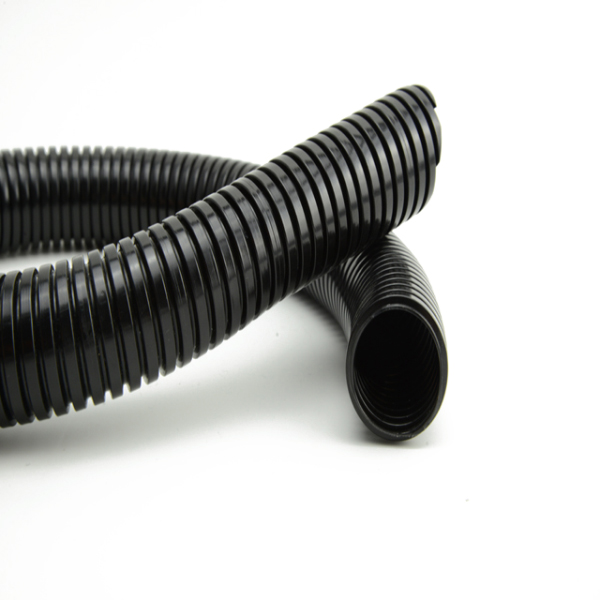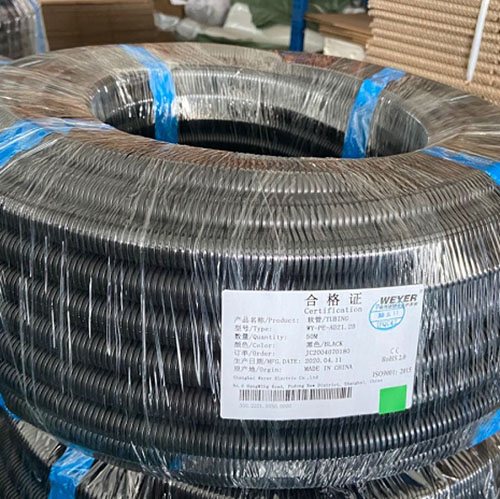 Application PolyamideTubing: Machine building
Below photos we are sharing for application used in one of our customer in machinery. The cables need to be protected under IP68 or IP69K against the water and dust when coming out of the control box, which can extend the life of cable usage.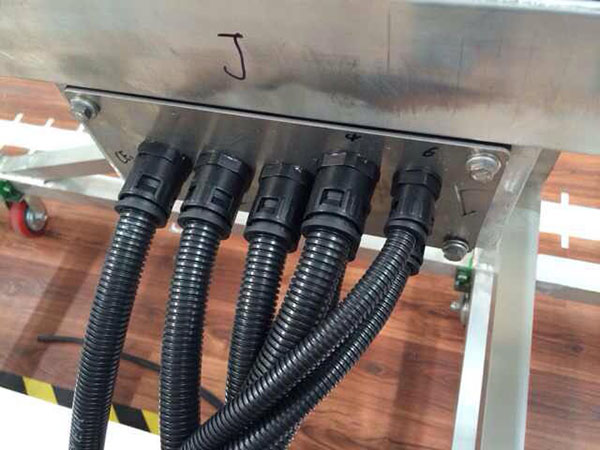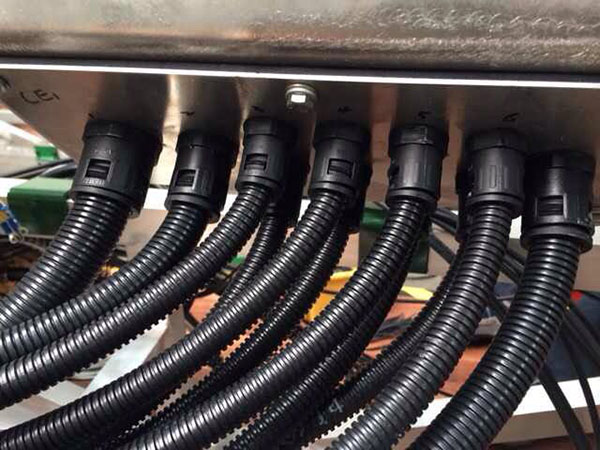 ---
Previous:
Openable Conduit With Braiding
---