High-temp Metal Cable Gland with Multi Cores (Metric/PG thread)
Product Detail
Product Tags
High-temp Metal Cable Gland with Multi Cores (Metric/PG thread)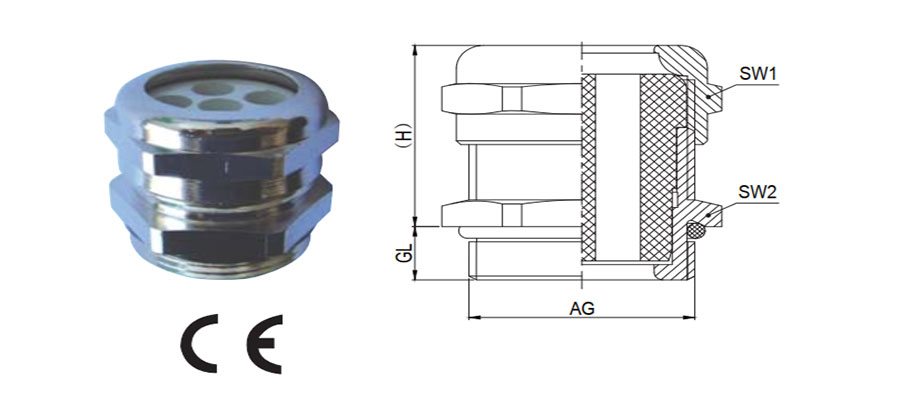 Cable glands are mainly used to clamp, fix, protect the cables from water and dust. They are widely applied to such fields as control boards, apparatuses, lights, mechanical equipment, train, motors, projects etc.We can provide you with high-temp metal cable glands with multi cores made of nickel-plated brass (Order No.: HSM.DS-M/nxd), stainless steel (Order No.: HSMS.DS-M/nxd) and aluminum (Order No.: HSMAL.DS-M/nxd).
Material:

Body: nickel-plated brass; sealing: silicon rubber

Temperature Range:

Min -50

℃

,

 Max 200

℃

Protection degree:

IP68(IEC60529) with suitable O-ring within specified clamping range

Properties:

V0(UL94), free of halogen, phosphor and cadmium,

Certifications:

CE, RoHS, UV-resistance, ageing-resistance.
(Please contact us for more information if you need other sizes or threads not included in the following list.)
| | | | | | |
| --- | --- | --- | --- | --- | --- |
| Article no. | Thread | Clamping range | GL | Wrench size | Packet |
|   | Dimension | mm | mm | mm | units |
| * HSM.DS-M20/5×2.5 | M20×1.5 | 5×2.5 | 7 | 22 | 32 |
| HSM.DS-M25/3×5 | M25×1.5 | 3×5 | 7 | 28 | 18 |
| * HSM.DS-M25/3×6.5 | M25×1.5 | 3×6.5 | 7 | 30/28 | 18 |
| HSM.DS-M25/4×3.5 | M25×1.5 | 4×3.5 | 7 | 28 | 18 |
| *  HSM.DS-M25/4×5 | M25×1.5 | 4×5 | 7 | 28 | 18 |
| HSM.DS-M25/2×8.5 | M25×1.5 | 2×8.5 | 7 | 30 | 18 |
| * HSM.DS-M25/3×7.5 | M25×1.5 | 3×7.5 | 7 | 30 | 8 |
| HSM.DS-M32/3×8.5 | M32×1.5 | 3×8.5 | 8 | 36 | 8 |
| * HSM.DS-M32/5×5.5 | M32×1.5 | 5×5.5 | 8 | 36 | 8 |
| * HSM.DS-M40/5×8.5 | M40×1.5 | 5×8.5 | 9 | 45 | 8 |
| * HSM.DS-M40/3×12.5 | M40×1.5 | 3×12.5 | 9 | 45 | 8 |
| HSM.DS-M50/4×12.5 | M50×1.5 | 4×12.5 | 9 | 50/55 | 8 |
| HSM.DS-M50/5×12.5 | M50×1.5 | 5×12.5 | 9 | 60 | 2 |
| HSM.DS-M50/13×7 | M50×1.5 | 13×7 | 9 | 55 | 2 |
| * HSM.DS-P21/3×6.5 | PG21 | 3×6.5 | 7 | 30 | 18 |
| *HSM.DS-P21/6×6 | PG21 | 6×6 | 7 | 30 | 18 |
| HSM.DS-P29/3×8.5 | PG29 | 3×8.5 | 8 | 40/36 | 8 |
| * HSM.DS-P36/5×8.5 | PG30 | 5×8.5 | 8 | 50/45 | 4 |
| * HSM.DS-P36/3×12.5 | PG31 | 3×12.5 | 8 | 50/45 | 4 |
---
---