Explosion-proof Metal Cable Gland (Metric/PG/NPT/G thread)
Product Detail
Product Tags
Explosion-proof Metal Cable Gland (Metric/PG/NPT/G thread)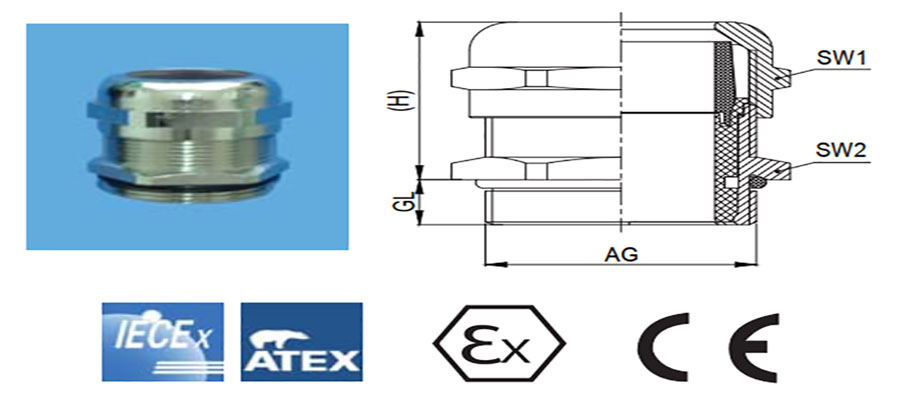 Cable glands are mainly used to clamp, fix, protect the cables from water and dust. They are widely applied to such fields as control boards, apparatuses, lights, mechanical equipment, train, motors, projects etc.We can provide you with metal cable glands made of nickel-plated brass (Order No.: HSM-EX) and stainless steel (Order No.: HSMS-EX).
Material:

Body: nickel-plated brass; seal: polyamide; sealing: modified rubber

Temperature Range:

Min -40

℃

,

 Max 100

℃

,

 Short-term 120

℃

Protection degree:

IP68(IEC60529) with suitable O-ring within specified clamping range

Properties:

Resistance to vibration and impact, in accordance with IEC-60077-1999.

Applications:

Machine building, electric equipment, electric control cupboard

Certifications:

CE, RoHS, Exe II Gb, IECEx, ATEX.
(Please contact us for more information if you need other sizes not included in the following list.)
Explosion-proof Nickel-plated brass cable gland (Metric thread)

Article no.

Thread

Hole size

AG

GL

H

SW1/SW2

Packet

Dimension

mm

mm

mm

mm

mm

units

HSM-EX-M12

M12×1.5

3~6.5

12

6

19

14/14

75

HSM-EX-M16-H

M16×1.5

3~6.5

16

7

20

14/18

75

HSM-EX-M16

M16×1.5

4~8

16

7

21

17/18

75

HSM-EX-M16-D

M16×1.5

5~10

16

7

22.5

20/20

32

HSM-EX-M18

M18×1.5

5~10

18

7

22.5

20/20

50

HSM-EX-M20-H

M20×1.5

5~10

20

7

22.5

20/22

32

HSM-EX-M20

M20×1.5

6~12

20

7

23.5

22/22

32

HSM-EX-M20-D

M20×1.5

8~14

20

7

23

24/24

32

HSM-EX-M22

M22×1.5

8~14

22

7

23

24/24

32

HSM-EX-M24-H

M24×1.5

6~12

24

7

23.5

24/27

18

HSM-EX-M24

M24×1.5

8~14

24

7

23

24/27

18

HSM-EX-M25-H

M25×1.5

8~14

25

7

23

24/28

18

HSM-EX-M25

M25×1.5

10~16

25

7

24.5

28/28

18

HSM-EX-M25-D

M25×1.5

13~18

25

7

26

30/30

18

HSM-EX-M27-H

M27×2.0

10~16

27

8

24.5

28/30

18

HSM-EX-M27

M27×2.0

13~18

27

8

26

30/30

18

HSM-EX-M30-H

M30×2.0

10~16

30

8

24.5

28/34

18

HSM-EX-M30

M30×2.0

13~18

30

8

26

30/34

18

HSM-EX-M32-H

M32×1.5

13~18

32

8

26

30/36

8

HSM-EX-M32

M32×1.5

15~22

32

8

28

36/36

18

HSM-EX-M32-D

M32×1.5

18~25

32

8

33

40/38

8

HSM-EX-M33

M33×2.0

18~25

33

8

33

40/38

8

HSM-EX-M36-H

M36×2.0

15~22

36

8

28

36/40

8

HSM-EX-M36

M36×2.0

18~25

36

8

33

40/40

8

HSM-EX-M40-H

M40×1.5

18~25

40

9

33.5

40/45

8

HSM-EX-M40

M40×1.5

22~30

40

9

35.5

45/45

8

HSM-EX-M40-D

M40×1.5

22~32

40

9

38.5

50/50

4

HSM-EX-M42

M42×2.0

22~32

42

9

38.5

50/50

4

HSM-EX-M48

M48×2.0

22~32

48

9

38.5

50/52

4

HSM-EX-M50

M50×1.5

30~38

50

9

40

58/55

4

HSM-EX-M56

M56×2.0

30~38

56

9

40

58/60

2

HSM-EX-M60

M60×2.0

37~44

60

10

41

65/65

2

HSM-EX-M63

M63×1.5

37~44

63

10

41

65/70

2

HSM-EX-M63-D

M63×1.5

42~53

63

10

44.5

75/75

2

HSM-EX-M64

M64×2.0

37~44

64

10

41

65/70

2

Explosion-proof Nickel-plated brass cable gland (PG thread)

Article no.

Thread

Hole size

AG

GL

H

SW1/SW2

Packet

Dimension

mm

mm

mm

mm

mm

units

HSM-EX-P07

PG7

3~6.5

12.5

6

19

14/14

75

HSM-EX-P09-H

PG9

3~6.5

15.2

7

20

14/17

75

HSM-EX-P09

PG9

4~8

15.2

7

21

17/17

75

HSM-EX-P11

PG11

5~10

18.6

7

22.5

20/22

75

HSM-EX-P13.5-H

PG13.5

5~10

20.4

7

22.5

22/22

32

HSM-EX-P13.5

PG13.5

6~12

20.4

7

23.5

22/22

32

HSM-EX-P16-H

PG16

6~12

22.5

7

23.5

22/24

32

HSM-EX-P16

PG16

8~14

22.5

7

23

24/24

32

HSM-EX-P21-H

PG21

10~16

28.3

7

24.5

28/30

18

HSM-EX-P21

PG21

13~18

28.3

7

26

30/30

18

HSM-EX-P29-H

PG29

15~22

37

8

28

36/40

8

HSM-EX-P29

PG29

18~25

37

8

33

40/40

8

HSM-EX-P36

PG36

22~32

47

9

38.5

50/50

4

HSM-EX-P42

PG42

30~38

54

9

40

58/58

2

HSM-EX-P48

PG48

37~44

59.3

10

41

65/65

2

Explosion-proof Nickel-plated brass cable gland (PG thread: lengthened thread)

Article no.

Thread

Hole size

AG

GL

H

SW1/SW2

Packet

Dimension

mm

mm

mm

mm

mm

units

HSM-EX-P07-L

PG7

3~6.5

12.5

10

19

14/14

50

HSM-EX-P09-HL

PG9

3~6.5

15.2

10

20

14/17

50

HSM-EX-P09-L

PG9

4~8

15.2

10

21

17/17

50

HSM-EX-P11-L

PG11

5~10

18.6

10

22.5

20/20

50

HSM-EX-P13.5-HL

PG13.5

5~10

20.4

10

22.5

20/22

32

HSM-EX-P13.5-L

PG13.5

6~12

20.4

10

23.5

22/22

32

HSM-EX-P16-HL

PG16

6~12

22.5

10

23.5

22/24

32

HSM-EX-P16-L

PG16

8~14

22.5

10

23

24/24

32

HSM-EX-P21-HL

PG21

10~16

28.3

12

24.5

28/30

18

HSM-EX-P21-L

PG21

13~18

28.3

12

26

30/30

18

HSM-EX-P29-HL

PG29

15~22

37

12

28

36/40

8

HSM-EX-P29-L

PG29

18~25

37

12

33

40/40

8

HSM-EX-P36-L

PG36

22~32

47

15

38.5

50/50

2

HSM-EX-P42-L

PG42

30~38

54

15

40

58/58

2

HSM-EX-P48-L

PG48

37~44

59.3

15

41

65/65

2

Explosion-proof Nickel-plated brass cable gland (G thread)

Article no.

Thread

Hole size

AG

GL

H

SW1/SW2

Packet

Dimension

mm

mm

mm

mm

mm

units

HSM-EX-G3/8

G3/8″

4~8

16.66

8

21

17/20

32

HSM-EX-G1/2-H

G1/2″

5~10

20.99

8

22.5

20/24

32

HSM-EX-G1/2

G1/2″

6~12

20.99

8

23.5

22/24

32

HSM-EX-G1/2-D

G1/2″

8~14

20.99

8

23.5

24/24

32

HSM-EX-G3/4-TH

G3/4″

6~12

26.44

8

23.5

22/30

18

HSM-EX-G3/4-H

G3/4″

8~14

26.44

8

23.5

24/30

18

HSM-EX-G3/4

G3/4″

13~18

26.44

8

26

30/30

18

HSM-EX-G1

G1″

18~25

33.24

9

33

40/40

8

HSM-EX-G1 1/4

G1 1/4″

22~32

41.91

10

38.5

50/50

4

HSM-EX-G1 1/2

G1 1/2″

30~38

47.8

10

40

58/55

2

HSM-EX-G2

G2″

37~44

59.61

11

41

65/65

2

Explosion-proof Nickel-plated brass cable gland (NPT thread)

Article no.

Thread

Hole size

AG

GL

H

SW1/SW2

Packet

Dimension

mm

mm

mm

mm

mm

units

HSM-EX-N3/8

NPT3/8

4~8

16.65

16

21

17/20

32

HSM-EX-N1/2-H

NPT1/2″

5~10

21.85

20

22.5

20/23

32

HSM-EX-N1/2

NPT1/2″

6~12

21.85

20

23.5

22/23

32

HSM-EX-N1/2-D

NPT1/2″

8~14

21.85

20

23.5

24/24

32

HSM-EX-N3/4-TH

NPT3/4″

6~12

26.3

21

23.5

22/30

18

HSM-EX-N3/4-H

NPT3/4″

8~14

26.3

21

23

24/30

18

HSM-EX-N3/4

NPT3/4″

13~18

26.3

21

26

30/30

18

HSM-EX-N1

NPT1″

18~25

33.15

26

33

40/40

8

HSM-EX-N1 1/4

NPT1 1/4″

22~32

41.85

26

38.5

50/50

4

HSM-EX-N1 1/2

NPT1 1/2″

30~38

47.75

27

40

58/55

2

HSM-EX-N2

NPT2″

37~44

59.55

27

41

65/65

2
---
---