DKJ Block Connector/DGJ Self-setting Connector
Product Detail
Product Tags
Introduction DKJ Block Connector/DGJ Self-setting Connector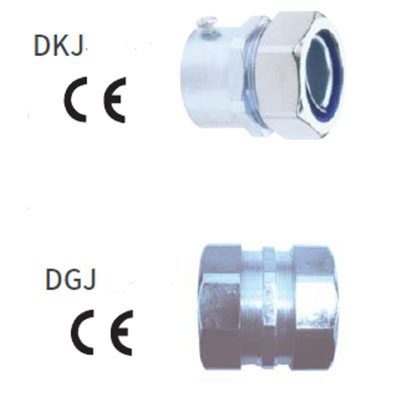 | | |
| --- | --- |
| DKJ | One end is connected to the conduit (steel tube), and the other end is connected to the threadless steel tube. When place the order, please inform the dimension of the conduit and the steel tube such asDKJ-15-15B, one end is connected toφ15( 1/2'') conduit and the other end is connected to 15B (1/2'') steel tube. |
| DGJ | One end is connected to the conduit, and the other end is connected to the threadless steel tubewith a clip. When place the order please inform the dimension of the conduit and steel tube such as DGJ-15-20A, one is connected toφ15 conduit and the other end is connected to 20A steel tube |
Advantages of End Type Connector
DKJ:
1. Simple structure and reliable sealing performance
2. Easy to use, well-made, light and beautiful in appearance.
3. No need to add gaskets, no welding, save materials, good performance of repeated assembly and disassembly.
DGJ :
1. Beautiful appearance, compact structure and high strength;
2. The design of the hose protection port is connected with the metal hose, and the assembly is time-saving and labor-saving;
3. Waterproof, dustproof, salt-proof, acid-base and rust-proof.
DKJ block connectors can be used in petroleum, chemical, metallurgy, electric power and other industries
DGJ self-fixing connectors are widely used in construction, power plants and other occasions where galvanized pipes and metal hoses need to be connected
---
Previous:
Tubing-Clamp
Next:
End Type Connector
---